6 Ways User-Generated Content Benefits Branded Sites
In the wake of Hummingbird, content and search marketing's buzzword darlings (valuable, diverse, organic) have been featured in more headlines than a "Real Housewives" diva. We all know that diverse, engaging content creates a meaningful user experience and supports the quality signals that feed search engines' ranking algorithms. Yet, the perfect formula can be elusive for niche businesses with very little material to support a high volume of diverse content.
User-generated content (UGC) is created by the end user or consumer and can fulfill a plethora of gaps that sites with thin content suffer from. Rather than hire an in-house copywriter to produce article content in the traditional sense, businesses that utilize UGC share the spotlight of content creation with their users. By incorporating UGC into existing content strategies, small businesses can become much more agile and lean considering the allocation of resources (time, money) when it comes to content development.
That does not mean that quality user-generated content will just magically drop into the lap of businesses and brands, especially relatively young, small ones. Applying UGC takes a little forethought and more than just a little effort when properly employed.
However, its potential speaks for itself. 
The benefits
Semantic Search: In today's search landscape, the most attractive forms of content are organic. Google is constantly adapting to mobile consumers who ask conversational questions to search, rather than type keywords. The websites with the most natural, in-depth language typically win within search listings.
Focusing On/Understanding the Consumer: No matter how someone feels about the (Not Provided) update that Hummingbird wrought upon webmasters, there is no doubt that this direction changed the face of SEO for many by taking away the ability to understand what key terms connect users to a website. User-generated content gives us the chance to peek at the expectations, language and motivation of targeted online consumers.
Keyword Opportunities: When consumers actively contribute to a brand via UGC, they essentially create new forms of content on a regular basis as well as generate content that naturally utilizes long-tail keywords a particular site may — or better yet, may not already — be targeting, effectively snatching some of those mysterious not provided keywords back out of Google's closed palm.
User Engagement: Everyone likes to be heard, whether by sharing their opinion about a particular product or choosing the name for their local microbrewery's newly unveiled hefeweizen. By providing avenues for them to engage with their brand's online presence, small businesses can maximize opportunities associated with user engagement, including time spent onsite and click-through-rate.
Conversions: A study by Bazaar Voice indicates that 51% of American consumers trust user-generated content more than any other information when researching a brand, product or service. What does that mean? The presence (or lack thereof) of user-generated content on a brand's website has a direct effect on their conversion rates (or lack thereof).
Search Visibility: Using micro data, ratings can be added to reviews and displayed in search results for added visibility and credibility. Reviews left on Google+ pages automatically appear as rich snippets in search engine results and in the local carousel.
Forms of user-generated content and search marketing benefits
UGC has crept in on the coattails of social media over the past decade or so to form a huge shift in the way webmasters use their sites. What was once a series of one-way dissertations is now an open dialogue. The ability to create environments where similar minded consumers can interact with each other can lead to an increase in:
Brand awareness
Greater word-of-mouth advertising
Consumer loyalty
Keyword authority
Site depth
Visibility
Overall online authority
Examples of UGC opportunities that businesses and brands can include in their ongoing organic search campaigns are:
Testimonials
Discussion boards
Product reviews
FAQ section
Comment sections on blog posts
Wikis
Social media sites
Content generating contests
Implementing various forms of user-generated content into an ongoing search campaign should be an integral component of any brand's marketing strategy, whether large or small. One example of a large scale, long-term campaign is CNN iReport, where users participate in "citizen journalism" by reporting on local issues that matter to them. The highest quality submissions are then vetted and repurposed on CNN's news coverage.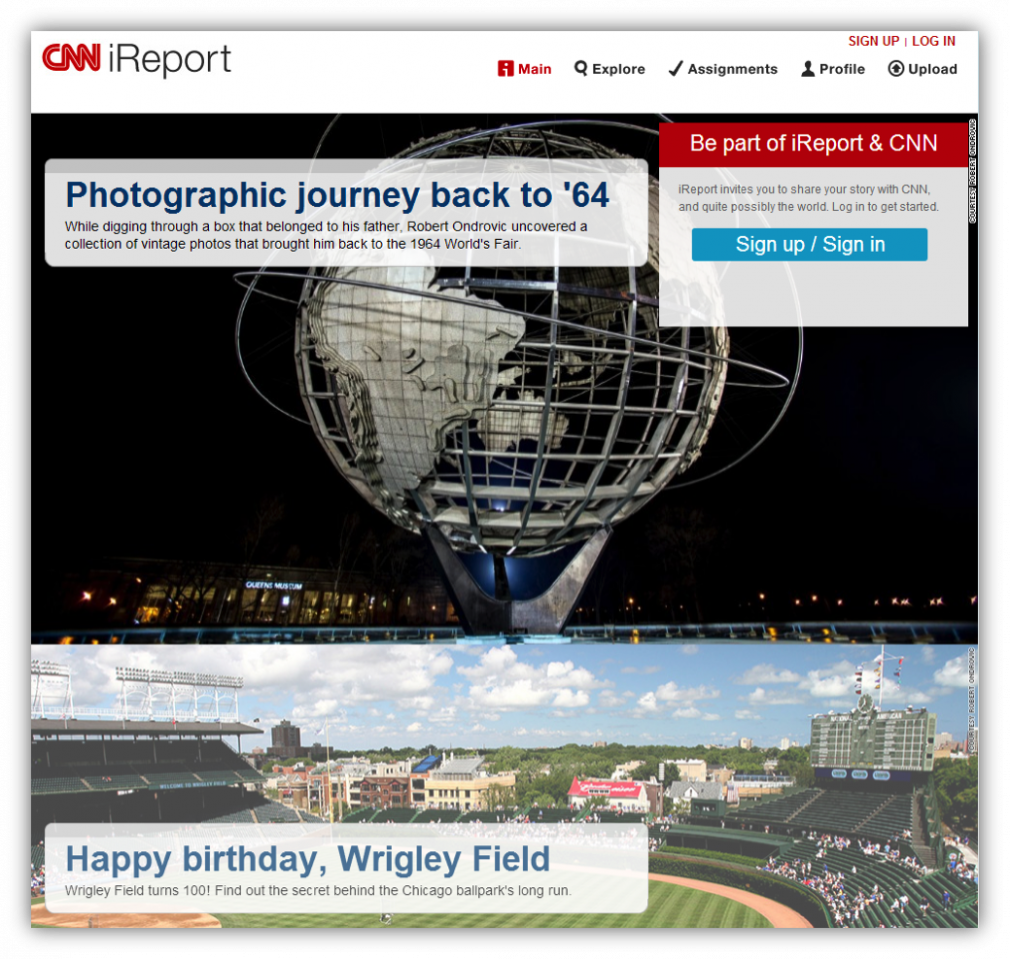 Along the same lines, Doritos challenged fans to create their own commercial with their "Crash the Super Bowl" contest. With this, Doritos offered a $1,000,000 reward for the contest winner, along with a place in TV advertising's version of Valhalla: Super Bowl ad space.
The return on investments for these campaigns has been significant. iReport has allowed the news giant exclusive, immediate access to important footage and helped to shape the new face of television journalism. According to Mashable, the Doritos Super Bowl commercial campaign resulted in over one billion impressions overall!
A small business owner might point out that large, established corporations like CNN and Doritos enjoy built-in audiences and virtually infinite marketing budgets in comparison to small- and mid-sized local companies who often struggle just to hit the 100 Facebook fans benchmark.
This is true.
However, it is precisely because of their comparatively limited budgets that user-generated content represents an enormous opportunity for small businesses looking to increase engagement, authority and conversion rates.
1. Determine your goals, target audience and their goals
The main goal of any decision made from a digital marketing perspective is to improve conversion rates. But dig a little deeper — how can a branded site actually accomplish this?
Is the goal to drive qualified traffic to one destination? Is it to capitalize on a seasonal surge in search interest, or perhaps to improve brand awareness amongst a brand's target audience?
Whatever the goals are, they should align with meeting the end users' needs. Take a thorough look at the target audience in mind and their online behavior. What forms of content interests them the most? What are the specific steps needed to take in order to set a business's site up for success?
2. Carefully choose your campaign
When a brand and their customers' goals align, strategizing begins.
If a particular brand's audience is motivated by quests for information about a specific product and there is ample interest to support it, creating a community forum is a fantastic way to gather link equity to the brand's site and expose new audiences.
If people are largely motivated by the intent to make an informed purchase, then product reviews may be the best way to reach them. If a business is lucky enough to enjoy enough brand awareness and authority that searchers directly seek them out, rather than just a generic product, then creating contests onsite or offsite that invite them to share their personal relationship with the brand in some way will solidify their attachment and potentially drive more traffic to their site.
3. Get people talking
A Duke University research paper published in 2013 noted that "the content generation decision [by users on UGC outlets] is predicated on beliefs about the number of other people consuming and generating content … As such, users' beliefs about others' participation on the platform are central to the problem of content generation and consumption."
This chicken and egg conundrum is nothing new to many small business owners wishing to attract more people to their online destination. So how do brands get the conversation started with a limited following?
For discussion platforms like social media sites, discussion boards and chat rooms, experts recommend that brands fake it 'til they make it. Invite industry experts to share content of their own. Recruit employees and family members in the conversational process to kickstart social sharing.
Another way to encourage dialogue is to incentivize it. For example, Yelp, a site dependent upon UGC, offers incentives by assigning elite status to the most prolific posters and then inviting them to exclusive Yelp events and parties.
Reviews are a little more stringent. Ask clients for online reviews or testimonials, but don't post fake ones or bribe people to share — Yelp and Google respond to fishy reviews with unequivocal wrath! Prompt content sharing contests on Instagram and Facebook. Be sure to use the offline world to promote and inform consumers of all online efforts, as well.
4. Consistent messaging/instruction for best practice for users
Setting clear boundaries and rules for UGC can only go so far when it comes to reviews and open discussion boards. Often times, good optimization starts by building UGC platforms with effective SEO in mind. Implementing keyword tags for discussion board posts, enforcing minimum word counts for titles and descriptions and allowing for image and video embedding are all simple first steps.
When it comes to driving offsite consumers to online destinations, it is important to encourage users to take advantage of local trending hashtags in order to puts the brand's image in front of targeted consumers.
5. Protect your link equity
Discouraging spam and utilizing practices like the rel=nofollow attribute prevent sites from indirectly endorsing or associating themselves with less scrupulous websites. No matter what SEO campaign a particular brand is embarking on, risk management should be a number one priority to avoid penalization by search engines and more importantly, a poor user experience.
6. Monitor and track your success
Any marketer worth their salt understands the importance of tracking each strategy they employ. A number of social media marketing tools exist to track engagement. When combined with Google and Bing Webmaster Tools, webmasters can get a fairly comprehensive understanding of how UGC drives traffic and ultimately conversions onsite.
Whether brands opt to focus on optimizing their social media presence or an intensive onsite UGC platform, the most important strategy for UGC is not ignore it. When brands pay attention to their target audience, consumers return the favor.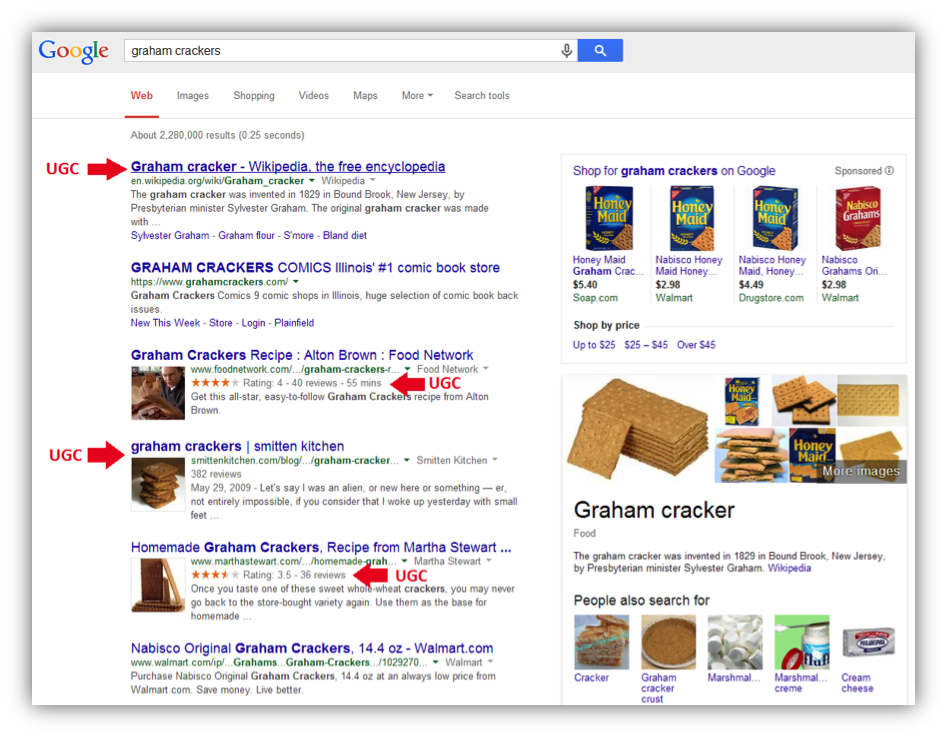 Run a Google search for almost any brand, service or product and notice that user-generated content often populates a significant number of the top organic results.
UGC is rapidly redefining the World Wide Web since the birth of social media. In a blog post, David LaFerney says that Google itself uses the entire web as UGC fodder for its own advertising purposes; an arrangement that seems to be working out pretty well for the search engine giant.
In the current and foreseeable future of search, it is no longer enough to write for search engine crawlers alone. Digital marketers and business owners must keep an increasingly keen eye on users and their expectations. User-generated content may or may not be the future of search marketing, but it is certainly an important tool to create diverse, organic and valuable web content.
Sources:
Ahn, Dae-Yong et al. "Managing User Generated Content." June 2013.
Baumgarten, Caroyln. "3 User Generated Campaigns That Got it Right." Mashable. June 2012.
Grimes, Marissa. "Nielsen: Global Consumers' Trust in 'Earned' Advertising Grows in Importance." Nielsen, April 2012.
LaFerney, David. "A Complete Glossary of Essential SEO Jargon." The Moz Blog, July 26th, 2006.
"Talking to Strangers: Millennials Trust People Over Brands." Bazaar Voice, January 2012.